Cores Plumber Beverly Hills— (424)320-6511

Clogged Toilets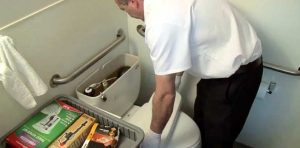 Your toilet is a significant part of any residential or commercial property. Neat toilets not depict the high level of cleanliness but also feature tidy nature of the owners. However, for toilets, clogging and blockage are the two main issues that can raise head despite utmost care. If you are having clogged toilet issues, then hiring the professional plumbing company is a must. Only a professional and experienced plumber can detect and fix the clogging issues causing damage to the property.
So if you're in Beverly Hills and want to hire a professional plumbing company, then you're at the right place! Cores Plumber Beverly Hills a renowned plumbing company with extensive experience in plumbing.
Professional Plumbing Services
A toilet, no matter how well you maintain often causes a mess because of clogging, leaking and breaking of pipes. However, when you have the professionally trained plumbing company on your dial list, you don't have to worry. Unclogging a toilet is a messy task and only an expert with extensive experience can handle such tasks. At Cores Plumber Beverly Hills, we have the professionals with years of experience in the plumbing field. Our staff has complete control over plumbing repairs and great command overuse of latest technology
24/7 Customer Care
At Cores Plumber Beverly Hills we care about our valuable clients and want to offer ultimate peace of mind. For all kind of plumbing emergencies, you can approach us 24/7. We're just a call away from solving your problems so give us a call today.
Latest Technology and Equipment
Cores Plumber Beverly Hills is the plumbing service provider which beliefs in advancement and learning. We have a constant learning environment for the training and development of our staff. We ensure the complete awareness of staff regarding the use of the latest tools and technology to perform the task more efficiently.
Environment-Friendly Products
To unclog, the clogged drain requires the use of acids and harsh chemicals hazardous to come in contact with. However, at Cores Plumber Beverly Hills, we use pressure jetting for the unclogging of drains and toilets. This technique is not only safe and environmentally friendly but also offers positive results.
Value for Your Money
Why waste money with amateurs when the experts are here to resolve all your plumbing issues? At Cores Plumber Beverly Hills, we believe in delivering complete value for your money and thus only offer excellence and efficiency through our reliable and proficient services.
So, wait no more, get rid of all your plumbing issues by hiring the finest plumbing service provider in Beverly hills- Cores Plumber.